I love keeping my engine bay spotless, and I dont see why this same method wouldnt work on ya'lls Altezzas. There will be some variations, but I'm sure ya'll can figure them out. I am no professional at this, but I have done it enough to kinda know what Im doin. (The pictures are not great, but you can get a good idea)
Supplies Needed:
1. Engine Degreaser
2. Purple Power
3. Scissors
4. 2 or 3 Large Trash Bags
5. Packing Tape
6. Mother's Back-to-Black (or another plastic polisher) (not pictured)
I like to used the cheap Advance Auto brand Engine Degreaser, but Engine Brite is another choice. I also like to use Purple Power for a little extra degreasing.
My Dirty Engine Bay, not horrible because I do this 4 times a year, but still very disgraceful:
Step One: Taping Off
This is not hard, but it is rather time consuming because you want to do it right. I used blue painters tape to help mark some of the harder to see parts that should be covered. Pretty much any where that there are electrical connections, plugs, etc. You also need to tape off the Power Steering and Break Resoviors, MAF Sensor, and Battery Terminals. You also want to tape off the two O2 sensors that you can see from the top. If you have an aftermarket intake, you can either cover the filter or take it off and put some plastic over the open tube (this is also a good time to clean and oil your filter as it will give it plenty of time to dry, which is what I did).
Step Two: Squirting Down with Engine Degreaser
This is easy, pretty much you want to hose down everything with the engine degreaser. You especially want to make sure you get in good where the headers bolt on, as seen in the second picture. I use a full can of the degreaser and a few squirts from the Purple Power on all the black covers to get the extra clean. I let this sit for 10-15 minutes, I use this time to clean my K&N filter.
Step Three: Washing Off the Degreaser
This step can be a little tricky, but its not hard. You want to make sure that you get all or as much as possible of the degreaser off. I start at the top, the engine cover, and work down. Again, make sure you squirt really well where the headers bolt on. If you are on concrete, you will see the water running out has a multicolor look, this is a good guide as to whether or not you need to keep hosing it off. I also make sure there is no degreaser left sitting on the underbody panel, so squirt real well on both sides of the motor to get it all off. You could probably take the panel off, but that seemed like a lot of work at the time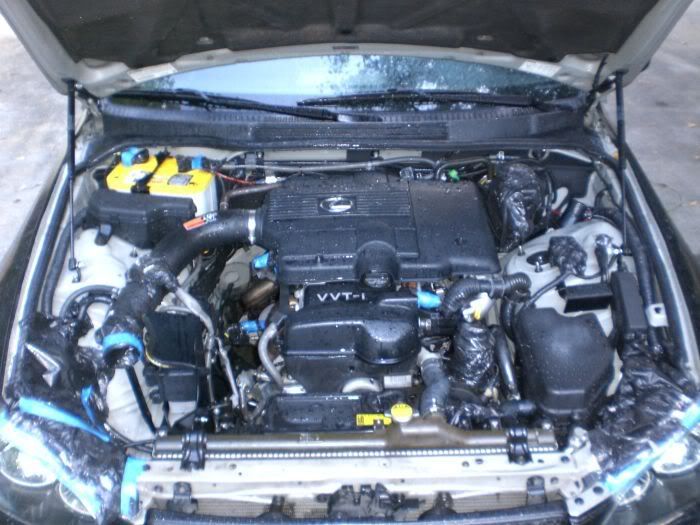 Step Four: Engine Drying/Removing Plastic and Tape
This is another easy step, just take all the plastic and tape off and let the engine dry for 15 minutes or so. Wipe off the main covers so that no water spots dry on there
Step Five: Burn Off the Rest of the Water/Degreaser
Now just start the engine and let it run for 10-15 minutes. You may or may not see smoke at this time, I usually don't until I have been driving around for 10 minutes and the motor gets REALLY hot.
Step Six: Shine Up The Plastic
This is where the Mother's Back-to-Black comes in. I always take all the covers off to let them cool, and it also makes it WAY easier to shine and polish them up. I dont have a picture of this step because I forgot, but you know how the covers look. I circled all the covers that I take off in this picture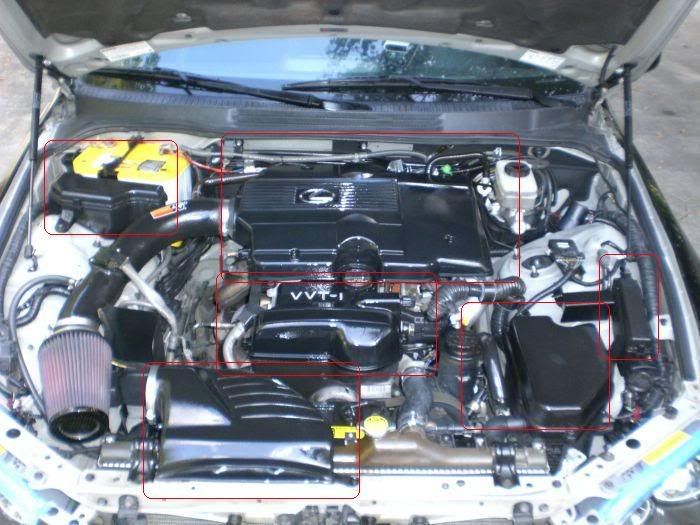 Step 7: Put Covers and Filter Back On
This is a crucial step
Step 8: Step Back and Admire the View
My After Pics (and yes they are dry to the touch):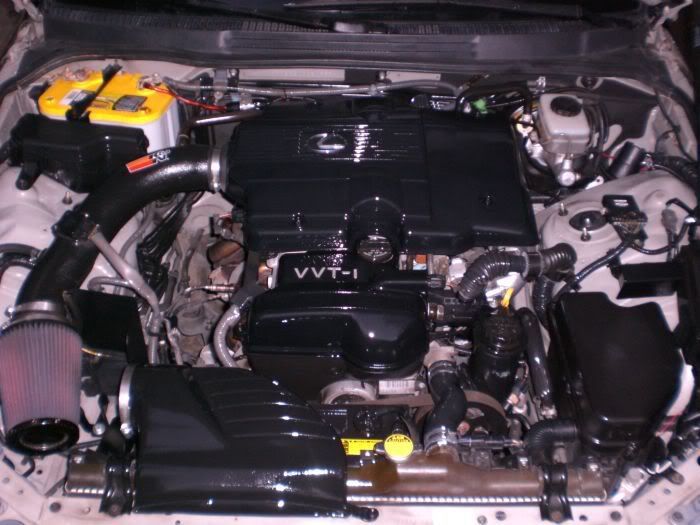 This took me roughly an hour to and hour and a half, for a first timer I would allow yourself atleast 2.5 hours to be sure you get it right. Any questions, just post them up or PM me (yes I did a little something extra to get the covers to shine that much, but I'm not quite ready to give up that secret yet, but its not too hard to figure out
).
Disclaimer: These are my personal methods/tecniques and I cannot and will not be held responsible for any misuses or problems that one may encounter while doing this cleaning. Thank You