RS200 Beams Manual Altezza for sale.
Year: 1998
6 Months Tax
6 Months MOT
88K Miles.
Beams engine (210bhp NA)
Manual 6 Speed Gearbox
Factory TRD LSD
TRD Skirts (factory fitted Toyota ABS plastic)
Rear bumper splitter (factory fitted Toyota ABS plastic)
Factory rear screen and rear ¼ window tint.
This car has the Blacktop Yamaha Beams engine (3sge).
The factory figure on 99ron petrol is 210PS.
The compression ratio is 11.5:1
The engine redline's at 8,000rpm and has dual beams which feels quite similar to Vtec.
These engines are very high revving, fast, very sought after and bulletproof!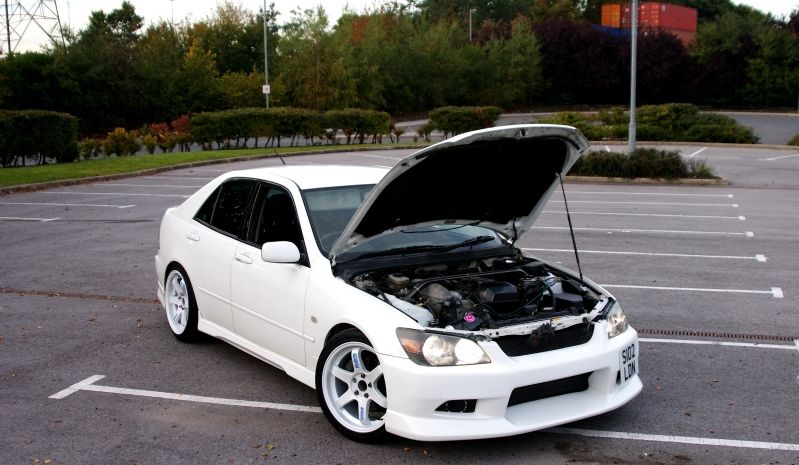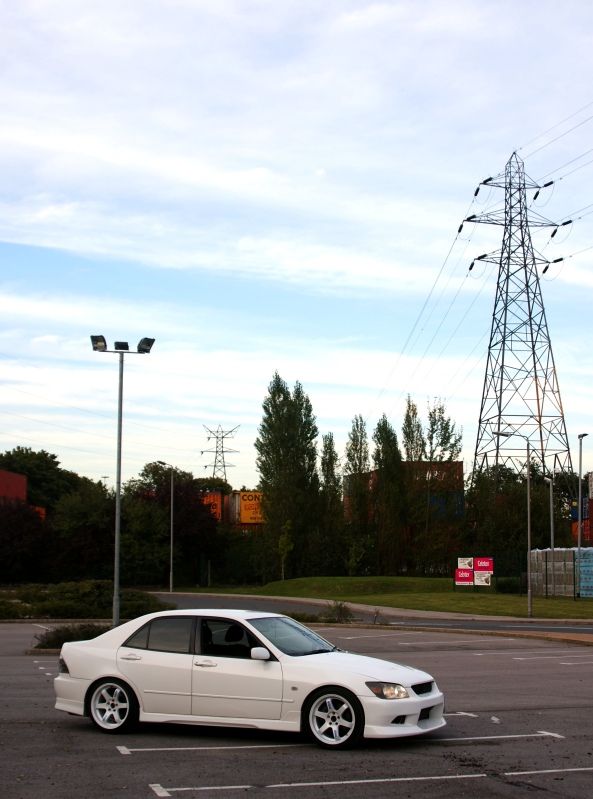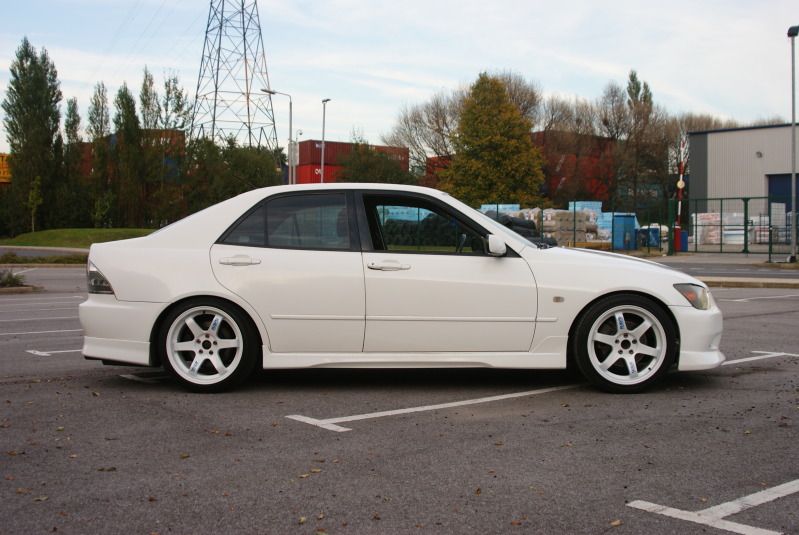 Modifications:
TRD sportivo suspension (shocks and springs -40mm).
BMC type carbon airbox.
HKS 90 degree inlet.
Cold air feed.
HKS* high power silent exhaust.
Jasma stainless down pipe.
HKS 4 branch stainless manifold.
TRD front strut brace.
Full earthing kit.
C-West Front Bumper.
Black front headlights.
Xennon 60W dms.
Xennon 65W fulls.
18" TE37 wheels – Rep's with excellent offsets:
Fronts are 18x8 ET35
Rears are 18 x 9 ET30
(This is the absolute largest you can fit to an Altezza without modification).
I bought the wheels brand new 4 months ago for 1,000 Pounds with tyres.
All 4 tyres have loads of thread left.
I am running 205/40/18's on the front and 215/40/18's on the back.
JVC double din stereo (USB & CD).
Ipod / Iphone connection kit.
6x9's on the rear shelf.
New 6" Mutant speakers in the front.
Nice sound system!!!
The car comes with the following spare parts:
Standard Toyota airbox.
DENSO air flow meter.
4 x Altezza original 17" alloy wheels.
Service:
Apart from regular oil changes, I gave the car a substantial service 4 weeks ago. This comprised of:
2 x new balljoints.
New downpipe exhaust gasket.
Diff oil changed (Work done by Slide motorsport)
Gearbox oil changed (Work done by Slide motorsport)
New Air flow meter.
NGK Iridium spark plugs.
New Brake pads up front (the rears had loads left).
Handbrake tightened at the hubs (the proper way lol! – the cable adjuster was not touched).
Brand new lambda sensor.
Standard:
Being a JDM, its got the usual:
Electric folding mirrors.
4 x electric windows,
Remote central locking.
Traction control,
Snow mode,
ABS,
General:
The car comes with some service receipts, part receipts and old mot certificates verifying the mileage since it came in from Japan.
The car has NO rust. The chassis is completely rust free and has only had one winter in the UK (and I'm anal about salt spreading so I power washed the car every week over xmas).
The interior is immaculate. Really immaculate!!! Original Altezza mats,
The car is very fast and fun to drive. Traction control is turned off at the press of a button. It's got low mileage which is reflected throughout the condition of the interior and exterior. Its quite economical when driven easy, and generally returns about 30 – 35 mpg mixed motorway / town driving.
The car is driving very well, it puts a smile on my face every time I drive it. It's never given me any bother and has always started first time EVERY time. The car is in excellent condition for it's year. The paint work is in very good condition with only very slight lacquer peel around one of the door handles. The body is great condition with only a slight car park kink on the passenger's door and the gearbox, diff, suspension, bushings, power steering, ball joints, etc etc are all perfect. It's probably worth mentioning that this is the 4[SUP]th[/SUP] Altezza that I have owned in the last 6 years. I'm addicted!!! For this reason I know them inside out and obviously know what to look for when buying.
This is by far the nicest one I have owned. I have never seen a c-west bumper on another one and I think that the wheels suit the car down to to the ground. Although I have said that the diff is the standard TRD LSD….. it seems to lock a lot sooner and more aggressively that the last 3 I have owned. Its either an aftermarket diff that was fitted in Japan or else it's just a very fresh Toyota LSD. Either way, it locks really well. Don't be fooled by the suspension either, I choose to keep the aftermarket TRD setup rather than move to coilovers as its still very stiff. Imo it's a perfect balance between daily and track.
The car drives really well, there is a nice VVTi kick at 4500rpm. If you want a daily that's ultra reliable but at the same time will really surprise people on a drift day…. Then this is ideal. Very rare car and a really nice example. This will definitely be a very regretful sale!
The V5 is there and the car is ready to be purchased and enjoyed!
Car comes with a spare key also.
No time wasters.
Cash sale only. Absolutly NO p/x
£3,450ono with the TE37 wheels.
£2,950 with the 4 x standard Altezza wheels
Serious inquires only.
Call me on 07548146438
Car is located in Leeds area.
Jon